Although post-traumatic stress disorder is often associated with military action and deaths in the family, it has also been linked to auto accidents. In fact, according to a National Institute of Mental Health (NIMH) study, 39.2% of MVA (motor vehicle accident) survivors develop PTSD.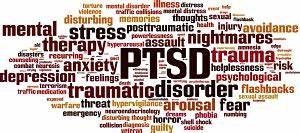 More than 3 million people sustain injuries in collisions every year in the United States. That means at least 270,000 people suffer post-traumatic stress disorder every year from accidents.
Every PTSD case is unique, but common symptoms include:
Reliving trauma through nightmares;
Feeling irritated or angry easily;
Having trouble focusing or sleeping;
And avoiding places and people that remind the victim of the traumatic experience.
If you were injured in an accident that another person caused, and you notice the symptoms of PTSD, you may be entitled to compensation for emotional distress. However, these damages are often difficult to prove. You will need strong evidence – possibly in the form of expert testimonies and an independent medical evaluation.
If the crash happened in Georgia, contact Piedmont Injury Law. Ken Crosson is a Marietta car wreck lawyer who will help you pursue the highest possible settlement.
Our office is available 24 hours a day, seven days a week. Call 678-909-0770 today to schedule a free case evaluation.
What Are the Symptoms of PTSD?
As previously mentioned, a significant number of PTSD victims experience nightmares, mood swings, and concentration problems, but each case is unique. Other possible symptoms include:
Inability to recall details about the traumatic event;
Blaming one's self or others for causing the event;
Impulsive behavior;
And an inability to feel positive emotions.
Treating PTSD after a Car Wreck
Some causes of PTSD, such as the death of a family member, only have psychological symptoms. However, a car crash can cause physical injuries in addition to emotional distress. Many accident victims fail to treat their PTSD, focusing only on the physical wounds. Nearly half of PTSD sufferers who do not seek treatment will maintain their symptoms for more than six months.
If you notice the symptoms of PTSD, it is critical that you consult a general practitioner immediately. He or she can then refer you to the necessary specialist.
There is a multitude of support groups for PTSD sufferers. Also, you may benefit from psychotherapy or medications.
Medications and Psychotherapy
Antidepressants can help people with PTSD manage symptoms of anxiety and depression. They also have benefits for concentration and sleep.
If your PTSD causes stress and anxiety, your doctor may recommend anti-anxiety medications. These are best for short-term use due to their high potential for abuse.
Psychotherapy, such as cognitive behavioral therapy, has also proven effective for patients with PTSD. CBT helps people identify irrational and negative ways of perceiving normal situations.
Exposure therapy may also help. As its name implies, exposure therapy helps patients overcome their fears by confronting the causes of their PTSD.
If you were injured by a negligent driver, contact Piedmont Injury Law. As a Marietta personal-injury attorney, Ken Crosson can help you avoid mistakes and pursue the maximum settlement. Schedule a free consultation today by calling 678-909-0770.